Jerardo Rodriguez
Qualifying Broker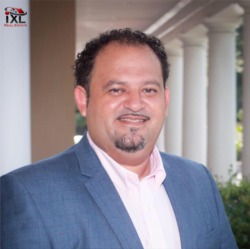 Licensed since Year 2000.
Jerardo Rodriguez has thrived as a Real Estate Agent until 2014.
In 2015, founded IXL Real Estate. 
Having listed and sold over 400 Properties in the last 5 years as an Individual Agent, and being involved in the preliminary valuation of the homes, give him valuable insight into pricing properties accurately when selling and providing hard core negotiation skills when representing buyers.
With an Innovative and Productive Sales Team by his side, Home Buyers and Sellers of the Gulf Coast will look to IXL Real Estate to provide Experienced Real Estate Professionals in handling one of their most important transactions in their lives. 
Fully utilizing cutting edge technology and ultra-targeted social media tactics to fully expose your home for sale to the most potential buyers.
Great things coming to IXL Real Estate, please stay tuned!