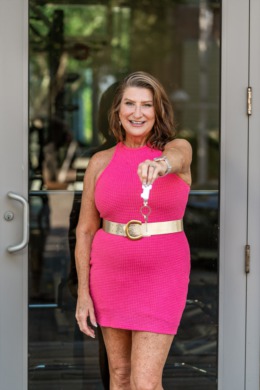 Cheri Burke, born in Cullman County, attended elementary and secondary school in Good Hope, Cullman County, and graduated from Hewitt Trussville High School in Jefferson County, Alabama. Cheri has an Associate's Degree in Secondary Education and Language Arts from Jefferson State Community College with a concentration in History and a minor in Spanish. Cheri received the esteemed Carson Award, Who's Who' of American Colleges, a member of Phi Rho Pi, an officer with Phi Theta Kappa, and chosen for the All American Academic Team.
Married to Woody Burke since 1982, they have resided in Mobile, Alabama since 2002 and Relocated to Mexico Beach in 2023 as a lifelong dream from spending decades of time throughout the years together.  Cheri and Woody have two daughters Jayne Elizabeth and Virginia Len.
With over 20 years in finance, Cheri began as an apprentice in the independent banking Industry, then converted to a more corporate structure. While in financing, she specialized in post-bankruptcy, recovery, financial analysis, and credit management.
The past 20 years, Cheri has maintained a personal real estate portfolio with a proven success record. Cheri specializes in first time home ownership, Second Home procurement, Luxury Beach Properties as well as Single and Multiple Home Investment.